Rajasthan has been an evergreen hub of Kachori since the era of Rajputana. The state's capital serves mouthwatering food to its visitors with unbeatable hospitality in India. So being a Company Secretary/Lawyer or any other esteemed professional, if you ever visit Jaipur then the following places will give you an amazing experience.
We are here with the signature snack of Jaipur: so if you are going to Jaipur for a Seminar, Business trip, or Family holiday, must read it till the end. Some ancient spots are here to give you the best experience.
You cannot neglect this spicy deep-fried delicacy if you are in Jaipur: specifically for breakfast, there is no competition. A variety of Kachori with unique Chutneys; is something hard to find in the world apart from Jaipur.
Company Secretaries (CS) or other professionals living in Jaipur can also comment on their personal favorite spot.
1. RAWAT MISTHAN BHANDAR
The HubSpot shop for tourists who visit Jaipur hardly forget to carry the packet of Rawat Kachori with them. This place is super authentic, being near to the Jaipur Railway Station and Bus Stand, so people who travel by train always prefer to enjoy their "Mawa Kachori and Pyaaz Kachori" : Popularly known as "RMB."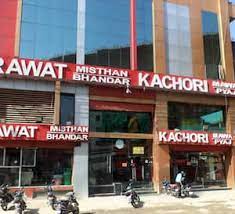 2. SAMRAT KACHORI BHANDAR
For more than 60 years old shop in the middle of Pink City is well known for its Aloo Pyaaz Kachori with a spicy curd sauce or Dahi ki spicy Chutney. This Shop is located at the famous Chaura Rasta and serves fresh Kachoris every day from 6:00 in the morning. The Shop has been run by its 3rd generation of SAMRAT.
google.com, pub-3651839772997863, DIRECT, f08c47fec0942fa0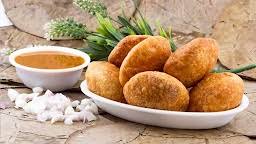 3. RADHEY KACHORI WALA
Another Kachori wala in Jaipur has been selling Kachoris for the last 65 years in Modikhana of Pink City. The Hing Kachori of Radhey is not comparable in the town. They serve Kachori with two types of Chuntneez Tamarind and Kathori. If you are the one who always resists Hing in the dishes, then this place is for you as they balance a great flavor of Hing in the Kachori.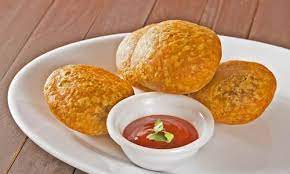 4. SODHANI SWEETS
The difference between Sodhani's Kachori and the rest of the Kachoriwals in Jaipur is that their Kachori filled with plenty of garlic with some pyaaz ka masala. They are prominent for their Pyaaz ki Kachori as a breakfast snack in Jaipur. The oldest outlet is located on Tonk Road, Jaipur but they four more branches in the city.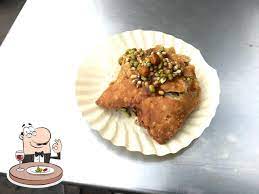 5. LAXMI MISTHAN BHANDAR
The place has been setting benchmarks for a century with its delicious food and snacks. Pyaaz ki Kachori of Laxmi Misthan Bhandar is another lip-smacking Kachori of Pink City. However, the place is prominently known as LMB and is in the middle of Jhori Bazaar. The Laxmi Misthan Bhandar has highly demanded their authentic Ghewar, an ancient sweet dish of Jaipur and equally famous for Kachori.
6. DOODH MISTHAN BHANDAR
The Hot and Spicy Aloo Pyaaz Kachori served at DMB is a great breakfast joint in Jaipur. The uniqueness of this Kachori is the filling of sweet corn with a spicy masala of Potato and Onion. The shop has three outlets in Jaipur, and the most popular one is at Lal Kothi, Jaipur.
7. BOMBAY MISTHAN BHANDAR
One of the ancient sweet shops of Jaipur serves Kachoris, sweets, and delicious food in the corner of the Pink City. Their Kachori and Sweets are also available via Swiggy and Zomato deliveries. Bombay Misthan Bhandar has more than three restaurants in Jaipur where visitors can enjoy their Daal ki kachori, Pyaaz Kachori, and Mawa kachori in breakfast and evening snacks.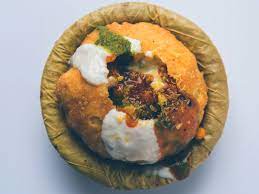 8. KHUTETA NAMKEEN BHANDAR
A small joint present in the heart of Jaipur is a perfect place to relish Aloo Ki Kachori. The serving style of KNB is just a replica of Delhi-style street chaat with lots of Namkeen over it. The shop is in Kishanpole Bazaar, Chaanpole area with Shop no. 90.
9. SAMPAT KACHORI BHANDAR
One of the over-spiced Kachori of Jaipur is served at Sampat Kachori with Dry Green Chutney. The stuffing of the Kachori is mainly of Potatoes and hot spices. This small Kachoriwala has been running the shop for 90 years in town. One can get hot and crispy Kachori at Chaura Rasta, Jaipur, near the State Bank of India.
10. ARHAM SWEETS
The newly opened restaurant gained popularity for the best quality of Pyaaz ki Kachori. The outlet is on Ajmer Road Jaipur with numerous sweets and different Kachoris. Their Daal ki Kachori and Pyaaz ki Kachori is highly in demand with Tamarind Chutney in the area. This one is my personal favorite.
11. JODHPUR MISTHAN BHANDAR
The relishing deep-fried Kachori with the authentic Jalebi is the signature breakfast at JMB. Even you can find multiple shops with the same name as "Jodhpur Mishthan Bhandar" the original one is situated at Sodala, opposite Janpath 81 Hotel. The owner is serving amazing Pyaaz Ki Kachori with a little twist of Potato and garlic. Even I liked it a lot.
12. BHARATPUR KACHORI
This Kachoriwala is not in a cozy shop, unlike other Kachori Points in Jaipur. The crowd at this shop in the morning is huge for the taste and quality. It is a small stall or Thela on the Sahkar Marg, opposite Emily Phatak. This stall is stepped up in the morning only till the stock lasts by noon. The Kachori they serve with Aloo ki Sabzi and Dahi are much tangy and tasty at a very affordable price.
13. SHANKAR CHAAT AND SNACKS
The Kachori served at Shankar Chaat in Raja Park Jaipur has its flavor. Hot Kachori serves with Kadhi and different chutneys with lovely taste. The Shop is in the very crowded market near Hanuman Dhaba. Nearby people usually enjoy the food in their vehicle only as the morning rush, in this Shop cannot be avoided.
14. PURAN JI KACHORI WALA
The lip-smacking taste of Puran Ji Kachori is unique as they serve Kachori with Dhai (Curd) by making a hole inside Kachori that enhances the flavor of Crispy Kachori. The Kachori has Daal masala inside it, which is extremely spicy. Along with Dahi Kachori, their Mawa Kachori is equally good. The shop is at SBBJ Street, Pink City, Jaipur.
15. GOPI KACHORI
The small cozy snack joint in C-scheme, Ashok Nagar, namely Gopi Kachori is truly a heart-touched spot for enjoying Kachori. In the center of a High-Class area, Gopi Kachori is famous for its genuine hospitality. Their Pyaaz ki Kachori with Green and Red Chutney is yummy as they store it in an earthen pot.
16. ANKURIT KACHORI WALA
The surprising taste of fried Kachori and Sprouts inside is hard to find in Jaipur. The worth visit Kachori Joint in Panch Batti, C-Sheme is Ankurit Kachori. They also add Mint Coriander Chutney with Tangy Tamarind in it. The quality and Hygiene of the food attract lots of customers in town. Not yet tried but going to try it for sure.
17. SAINI KACHORIWALA
This Kachoriwala is in C-Scheme, behind Bagaria Bhawan, Jaipur. The delicious Daal ki Kachori and Pyaaz ki Kachori serve freshly at Saini Kachoriwala. This old Shop in Subhash Marg also delights customers Lassi along with Kachori. The price is worth the Kachori with Green Chutney made of Coriander and Mango Powder.
18. KOTAWALAS KOTA KACHORI
The authentic taste of Kota Kachori is too good at Kotawalas Kota Kachori. The stuffing of Hing inside Kachori gives an amazing feeling and never makes you feel heavy. It's not a complete meal like Pyaaz ki Kachori. A single person can enjoy Two Kachoris at a time with Tangy Chutney and Tea.
19. PANDIT KACHORI WALA
The lip-smacking taste of Daal and Pyaaz ki Kachori gives you a spicy feeling as served with Kadhi or Aloo ki Sabzi. The Shop is on the outskirts of Jaipur near CBI Colony, Jagatpura, Jaipur. A native of Jaipur feels incomplete on weekends with having breakfast of Kachori. Those who live on the outskirt may enjoy the Kachori at Pandit Kachoriwala for the last 16 years.
20. SHREE RAM NAMKEEN BHANDAR
After trying Daal ki Kachori of Shree ram namkeen bhandar in Jaipur, you will always crave Kadhi Kachori in the monsoon season. Their natural taste and hospitality which is unique for the last many decades in the walled city of Jaipur. The shop is at the prime location of Jaipur, Is Tresor Apple Street, MI Road, Jaipur.
References:
1. https://www.google.com/search?q=top+places+for+kachori+in+jaipur&oq=top+places+for+kachor&aqs=chrome.1.69i57j33i10i160l2j33i22i29i30.10895j0j7&sourceid=chrome&ie=UTF-8
2. https://rajasthanstudio.com/7-best-places-to-savour-kachoris-in-jaipur/
3. https://yumbasket.in/blogs/informational/top-5-pyaz-kachori-sellers-in-jaipur
4. https://www.eazydiner.com/food-trends/5-best-places-to-relish-delectable-kachoris-in-jaipur
5. https://www.youtube.com/watch?v=6NCHwxporOY
6. https://www.youtube.com/watch?v=cyVTWnU8FnI